With the proper hardware, your house will have the appearance of true working shutters and that will distinguish your home from the rest.
Shutter Dogs
Shutter Dogs are faux metal structures that give the appearance of shutters being secured to the wall.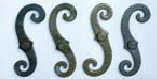 Hinges and Straps
Faux metal attachments that give the appearance of a functioning shutter, made to fit any shutter size.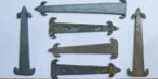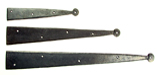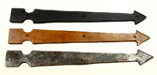 Bolts & Clavos
Available in hammered, cast, or patina finish.